Joined

Mar 12, 2023
Messages

7
Location
RV Year

2022
RV Make

Custom DIY Roamer
Chassis

F550 on Liquid Spring with 42" offroad tires.
Engine

7.3 Godzilla.
I work from home on a couple of 43" 4K screens. They are great productivity tools. When in the camper, productivity definitely suffers due to the limitations of my laptops' monitors and the lack of screen real estate. This past year I've mitigated the issue a bit by adding a second portable USB-C screen but it is still lacking. I've connected to the RV's televisions but they don't offer the quality of image that I need or the ergonomics desired. I've been on the fence about just going ahead and installing some large 4K screens in my various work locations in the RV...
The other day while taking some measurements to fit another screen I had a thought: are there virtual screen options that are worth while yet?
I've played with VR stuff in the past but I find it fatiguing. Perhaps something in AR that isn't as cumbersome?
After doing some homework I ordered a set of Nreal Air AR glasses. In combination with their Nebula software it is supposed to give the ability to have 3 large virtual screens with my macbook pro.
Their marketing images: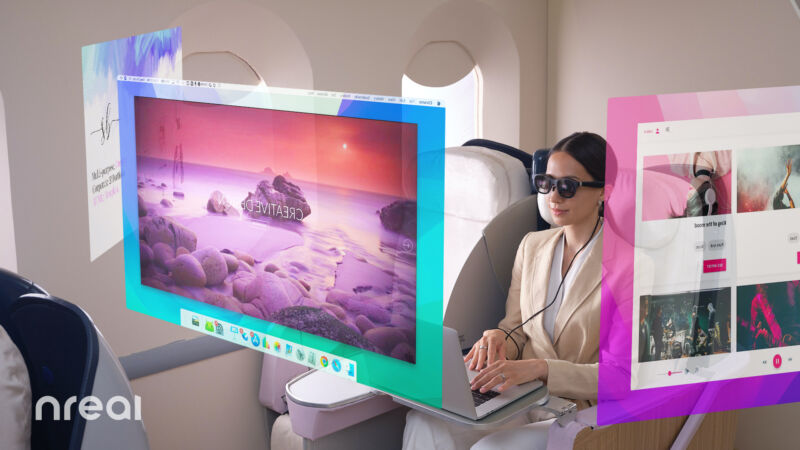 The glasses are supposed to arrive tomorrow. I'm really hoping they work well as they'll make working from the road much easier & productive without having to install large screens all over the RV. Has anyone tried these or another AR/VR solution that they like?
Would love to hear how others are getting more screen real estate when on the road.
Cheers,
Ed